What is SPFBO?
n. (spɪf·boʊ): an intergalactic indie fantasy book smackdown run by Mark Lawrence. Three hundred self-published fantasy books are distributed among ten fantasy blogs, and each blog chooses its finalist. The ten finalists are then read and scored by all blogs.
To be honest, I had no idea where the indie SFF community was hiding until a friend of mine kind of front-kicked me off the plank. "Oh, it's a pretty cool competition," she said, casually. "You'll meet a lot of other indie authors," she said, casually. That competition was SPFBO. I'd been off the socials during Phase 1, while each blog was choosing a finalist (I feel like I went off to eat a hot dog during the Hunger Games), so I didn't actually know I was still in the contest until… well, until my debut novel, Burn Red Skies, became one of the ten.
Regardless of what happens from this point on, I definitely got what I wanted! I met a lot of fantastic indie authors and found the community I was looking for. Massive thanks to everyone who has supported me along the way!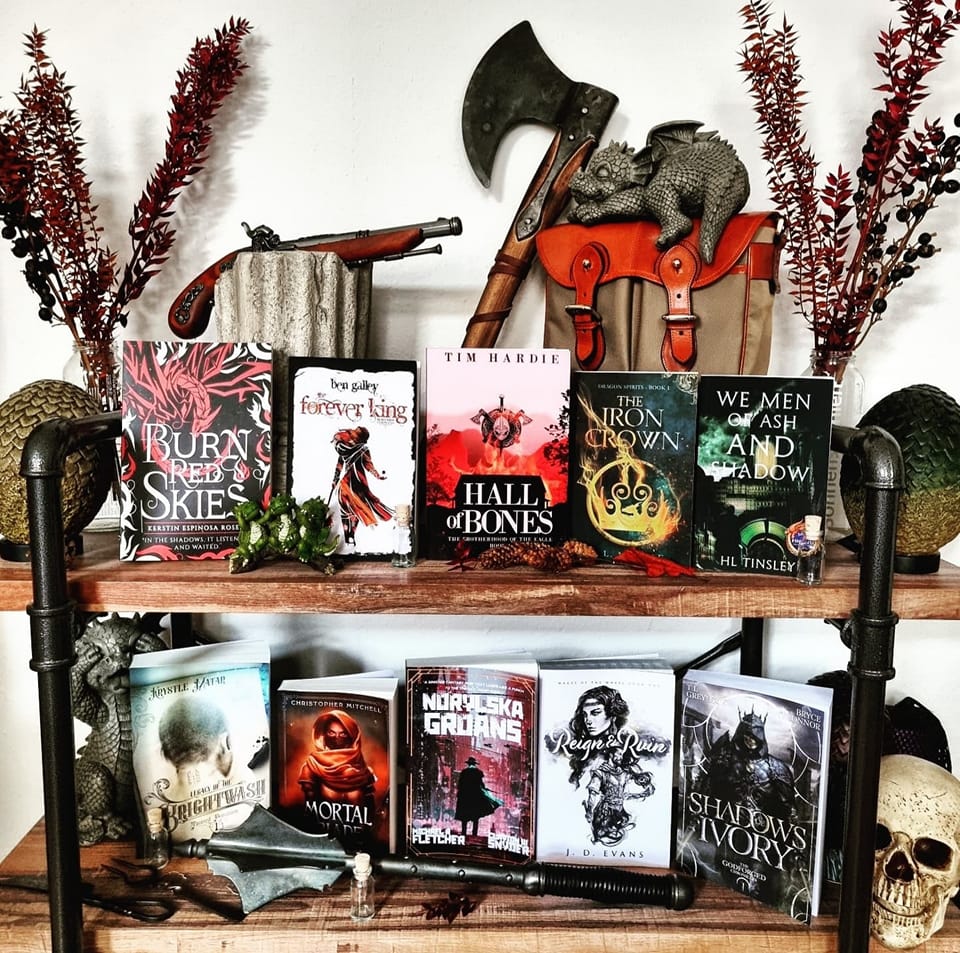 SPFBO 7 Finalist — From the Judges
Finalist in Mark Lawrence's Self-Published Fantasy Blog-Off 2021
"I loved the worldbuilding, especially the airship and crew, and how real they felt. I instantly clicked with the characters, and was intrigued by the plot and mysteries right from the first chapter."

Fantasy-Faction
"I enjoyed this highly imaginative fantasy and am excited to see the story continue in Rise Red Kingdom."

Before We Go Blog
"Epic Fantasy with a bit of court intrigue, some action-packed battle scenes, and a novel take on dragons."

Booknest
"A very fascinating world to explore with some brilliantly built characters."

Becky M—SPFBO Judge
"The story's unexpected turns and the author's crisp writing style keep readers flying through the book."

FantasyBookCritic
"I love Rosero's style and the fact that this is a debut makes that even more impressive. […] Burn Red Skies is a great start to a series, set in a fascinating world."

Lynn's Books
"One of my favorite parts of Burn Red Skies is the significant effort that Rosero expends on worldbuilding as we see large swaths of her literary realm."

The Critiquing Chemist
"Overall, this is an impressive debut novel and I will be watching this author for more."

Weatherwax Report
"While I would say its compelling characters were the book's key strength, the prose, world building and magic system all supported those character's stories admirably."

The Fantasy Hive
"I really enjoyed this book. It was never a chore to pick up and it never felt slow, in fact I think it's the most fun I've had reading for SPFBO so far this year."

The Fantasy Inn
"I was engaged consistantly throughout the story and I highly look forward to the next book!" 

FanFiAddict
SPFBO 7 Cover Competition — Cover Finalist